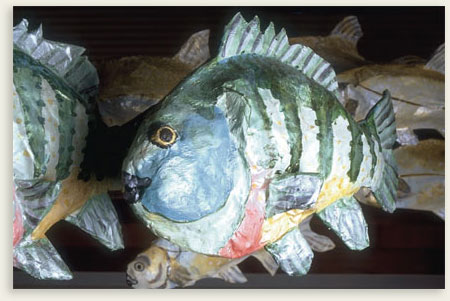 Alpine Pond Education Center

Overlooking Alpine Pond at Skyline Ridge Open Space Preserve of central California the David C. Daniels Nature Center features imaginative displays that both children and adults can enjoy. It serves as the starting point for exploring the environment of Alpine Pond and surrounding Skyline Ridge Open Space Preserve. A trip here includes a 1/2-mile trail, accessible to all ages and abilities, that loops around Alpine Pond.

Exhibits:

. Larger-than-life pond creatures.

• An interactive mural featuring pond-dwellers and their food chains.

• A live, captive-bred gopher snake.

• Touchable wildlife skulls and skins.

• Flora and fauna collections in interactive reader rails.
Koshland Science Museum

National Academy Of Sciences-National Academies

Intel Museum

Intel Corporation-Corporate Headquarters

Feeling The Heat:The Climate Challenge

Birch Aquarium at the Scripps Institute of Oceanography
The "Climate Challenge" Interactives

Birch Aquarium at the Scripps Institute of Oceanography

Water and Energy Conservation

Los Angeles Department of Water & Power

Alpine Pond Education Center

David C. Daniels Nature Center

Discovering History & Culture

Corporate History Gallery

Four Seasons Hotels & Resorts Corporate Headquarters

El Alma Del Pueblo (The Soul Of The People)

Los Angeles Craft & Folk Art Museum

Reagan Room

Aboard The USS Ronald Reagan-Northrop Grumman

Technology Timeline

Cisco Systems-International Executive Briefing Center
Discover Navajo: People Of The Fourth World

Navajo Nation Pavilion-2002 Winter Olympics

FIFA World Cup Soccer

Environmental Signage Masterplan-Proposal

Information Age: People, Information & Technology

Smithsonian-National Museum Of American History

The NFL Experience On Tour

National Fan-Fest Touring Event

Enlightened Media & Graphics

Interactive Media

Identity & Branding

000000000000000000000000000000000000000000000000

Print Ads

Publications, Periodicals & Proposals

Smart & Fun Charts & Diagrams